'A Jewel in the Crown of American Falconry'
The Archives of Falconry.
by
Alan Gates.
First Published in the Falconers & Raptor Conservation Magazine Winter 1997 Issue 33.

As we approach the millennium and prepare to dip our toes into the twenty first century, there is a feeling that we will 'boldly go where no man has gone before'.
Yet as a species, one of man's greatest achievements, has been the ability to communicate with each another and record those events in a durable format.
Historians tell us that the practice of falconry was first recorded in the East probably over three thousand years ago. As it spread westward across countries and cultures throughout the centuries, its passion has driven and shaped the lives of many enthusiasts. Some of these felt the need to commit their experiences to the written word or capture the moment in art form. For the ensuing generations, the ability to look back and compare how Frederick II, Bert or Salvin may have confronted a similar conundrum has been an inspiration. Many falconers have amassed throughout their lives a collection of manuals, artifacts and memorabilia. This collective instinct is stronger in some individuals than others, for some it is attributed to a desire for greater knowledge, for others it is a passion to own and build a collection. Often these collections are broken up and dispersed at the time of their present owner's demise. With their value in historical and monetary terms poorly understood, many items of immense value to the falconry community have been consigned to the ubiquitous car boot sale.
Here in the United Kingdom we are spoilt by the richness of our culture and the depth of our history. Our towns and cities bear witness to our turbulent past and are influenced by the occupations of conquering Romans, Saxons and Normans.
At the height of the British Empire we had colonised and controlled over 25 % of the worlds population and land area. The motherland of this Empire literally bulged at the seams with the plundered booty of treasure and artifacts from around the world.
Little wonder that some present day residents of the Kingdom can be a little blasé towards our history.

Although falconry was practised here for some centuries, it received a major stimulus from the returning crusaders bringing new knowledge from the East, and it was eagerly pursued by the nobility and Royalty in the following centuries. In contrast, its progression into the New World is little beyond the embryonic stage. Falconry in the US has been traced to the arrival of the first Europeans, with its greatest activities and advances having come in the last half of this century.

It was once stated by an eminent modern American falconer that "the Brits have little to teach us other than history", blunt and debatable as this truth may be, yet it is evident that thus far we have failed in our ability to collate our own rich falconry history.
With most of the existence of American falconry spanning just a few decades , early alarm bells started ringing as astute falconers noticed individual collections of memorabilia from some of their 'old guard' were being dispersed into oblivion after their demise.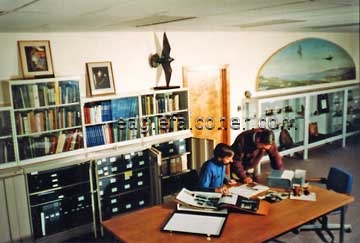 In 1986 The Peregrine Fund created the Archives of American Falconry to redress the loss of so much of the sports embryonic history within the New World. The Archives found a home in the headquarters of The Peregrine Fund at the World Center for Birds of Prey in Boise, Idaho. Already a respected research facility created by falconers and dedicated to the study, propagation and preservation of falcons and other birds of prey, it was the ideal home for the preservation of continent's falconry history.
World famous for the amazing success in having returned the peregrine from the edge of extinction in the US, its founders, directors and the majority of its operating personnel were devoted, life-long falconers whose preservation concerns extended to the sport as well as to the peregrine itself.
Advantageously, it had an already established, educational, not-for-profit tax-deductible status so that its supporters are eligible for tax relief for material and financial donations. Such a tax status is not available to the North American Falconers Association or to any of the local falconry organisations because of their involvement in political activities on behalf of falconry.
By 1988 the North American Falconers Association voted to transfer its own corporate records from McGill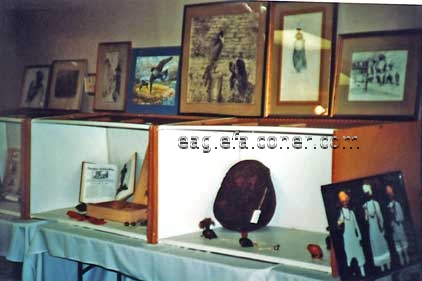 University in Canada, to the new Archives of American Falconry thus putting pressure on the space and man hours allocated at the World Center.
The rate of private donations of material also gathered considerable momentum in those first few years, dramatically demonstrating the need for adequate housing/storage facilities dedicated explicitly to those growing efforts of historical preservation. The American falconry community--with some arm twisting--displayed its generosity, enabling The Peregrine Fund to add a new "James N. Rice Memorial Wing" to its administrative headquarters. Named in honour of a highly respected pioneer American falconer, the wing includes a room of some 700 square feet specifically to house The Archives' expanding collections of material and falconry memorabilia. A look at some of those collections and their major gifts will give the reader a better understanding of what The Archives is all about.
The Robert and Sarah Stabler Memorial Library is built around a core of books formerly owned by Prof.Stabler. The library now contains over 800 volumes of falconry and associated works, to include the extensive Schwerdt catalogues, two copies of Schegel & Wulverhorst's magnificent Traite de Fauconnerie and works in a dozen foreign languages.
Over 750 photographs amassed by Alva G. Nye, Jr over his life-long association with the sport, supported by some 200 pages of captions vastly increasing their historic value ( and transcribed from seven and a half hours of personal interview with Nye before his death in 1992) are included in the extensive photo collection. That collection also contains almost a hundred photographic images dating back to the early 1930's depicting the nest life of the eastern race of peregrine whose extinction provided impetus for the studies and efforts, led by Peregrine Fund falconers, which have now resulted in the recovery and restoration of the peregrine in North America.
An extensive collection of hoods--and other equipment-- from around the world, both historical and contemporary, has been gathered, centred on a collection of the American falconer/hoodmaker Minard Stevens.
A wide array of typescripts and manuscripts, to include those eventually coming into fruition in the published works of contemporaries like Frank Beebe, Steve Bodio and Dan O'Brien, as well as a number of earlier authors.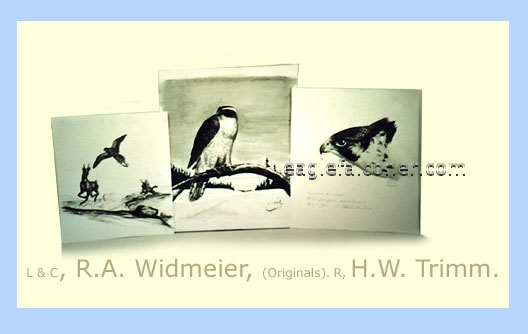 An expanding art collection of both originals and noteworthy reproductions includes about a hundred original pieces in a variety of media by then-budding artist R.A. Widmeier depicting his observations of falconry in India from 1942 to '44, the entire series of NAFA meet prints and a selection of more contemporary falconry prints by a variety of artists.
Audio--and now video--tapes of oral-history interviews with a variety of older North American falconers.
A multitude of obscure but highly valuable scientific observations made or collected by falconers, highlights The Archives efforts to record the role of falconers in the advancement of raptor biology. Best exemplifying these materials are several archival boxes of field notes, photographs and draft publications recording historical peregrine nesting data from the studies of Dr. Walter Spofford.

The Archives collections are now valued at almost a half million pounds. All these materials represent generous gifts . These gifts eloquently reaffirm the truth of the old adage that it is a rare gift that is free. Correspondence, notes, photos and the like must be segregated in archivally-acceptable (i.e. expensive) acid-neutral folders. Those folders, like the equipment and other memorabilia, are then contained in acid-neutral boxes. Books require steel bookcases ( currently some 90 linear feet of shelving ) protected with anti-UV glass. All materials, filed and boxed are contained in steel cabinets, emphasising the archival preservation ( as opposed to museum-display ) orientation of The Archives. There are, however, a few of the more interesting items in display cabinets for the benefit of casual visitors.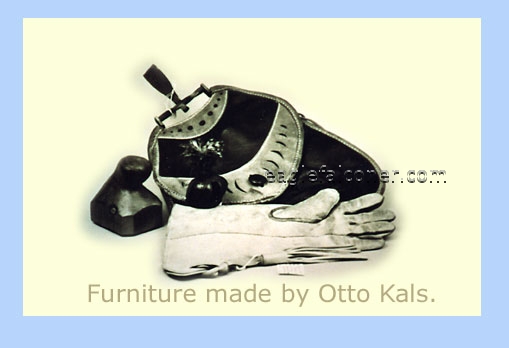 To provide such storage material and facilities is expensive. Recognising that it would be inappropriate to redirect funding received for restoration and preservation of endangered raptors for this historical preservation, The Peregrine Fund has stipulated that the Archives, although an integral part of its organisation, must be financially self-sufficient. Rather than continually seeking annual operating funds, The Archives elected a single, major five-year fund raising effort, now approaching completion. Its objective is to raise a permanent endowment whose annual interest will provide sufficient funding to support preservation efforts in perpetuity. NAFA and the various state and provincial falconry organisations have generously joined with individual falconers toward development of this endowment, now well on its way toward its goal of $350,000 ( approx a quarter million pounds.).
The resounding success of the American Archives is undoubtedly due to the individual generosity of the American falconers. It also reflects how serious and proud they are about their history.

Behind all successfully run organisations is a team of people whose names never hit the limelight but without whose dedication, time, efforts and generosity, success would be all that harder to achieve.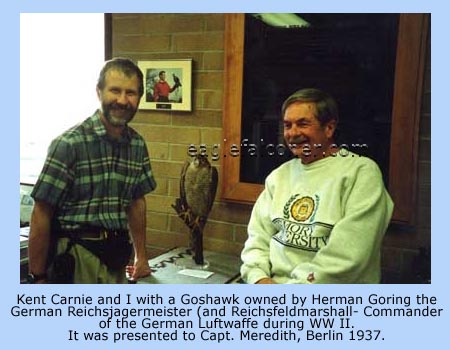 Above all, the Archives of American Falconry owes much of its fruition and its continued success over the past ten years to one man, Kent Carnie, a retired army Lt. Colonel. Given all his archival activities, his "retirement" is a bit of a joke. From the very first, Kent has been at the helm as archivist and curator, he has uprooted his family and home to move across country to live next door to the Archives. He has cajoled and sometimes bullied the American falconers into realisation that without their continued support and efforts, much of their valued history would continue to be lost. It is without a doubt that Kent's dogged determination has brought the Archives significantly close to achieving its goal of self sustainability through its endowment fund.
The Archives of American Falconry is now a very serious collection, encompassing far more than the short time frame in which the sport evolved within the New World. Many of America's pioneer falconers learnt their art from manuals, and in some cases, additional personal correspondence with past European falconers.
True to its name, which conveys concern with falconry in both The Americas and not just the United States, the primary focus of the AAF's archival attentions is on the history of the sport in the New World. Nonetheless, recognising that virtually all falconry there is built on a common European, Middle Eastern and even Oriental heritage, The Archives collection extend to falconry-associated materials from throughout the world. It is a veritable Aladdins cave for any devotee who's passion also appreciates the heritage of our sport.
The Archives is open and readily accessible at virtually any time to anyone with a serious interest in our sport, open, that is, except between mid-September and Christmas when Kent is busy pursuing sharptailed grouse in Montana. He remains a falconer first and then an archivist.
A visit to the Archives is all the more memorable due to the infectious delight Kent has in the collection and its contents, his knowledge and willingness to guide you through the Archives is invaluable. He asks only for as much advanced notice as possible from anyone seeking to use The Archives facilities, essentially to ensure his personal presence and assistance.
The Archives of American Falconry has passed its tenth birthday. It has emerged expertly honed and polished revealing a veritable Jewel in the Crown of American Falconry achievements.