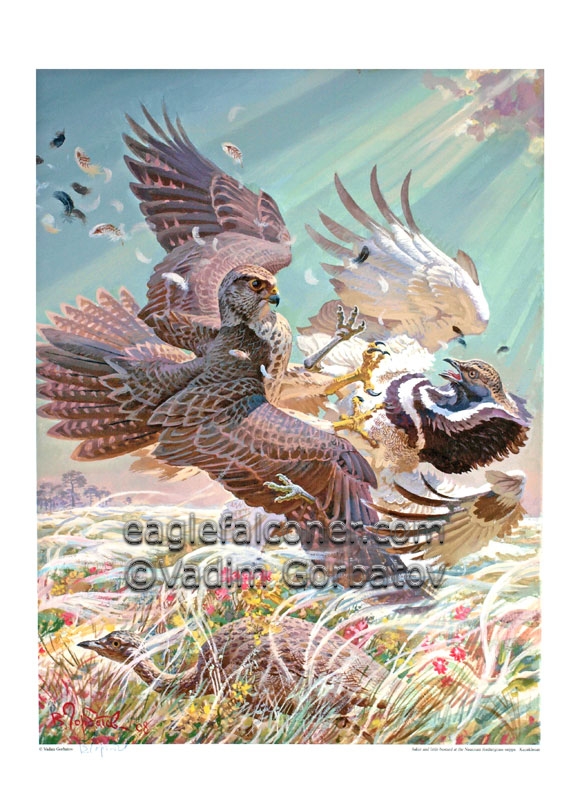 Saker & Little Bustard.
The Saker falcon attacking the Little Bustard. This is the next work from the series on the Saker falcon, where different subspecies of this falcon are depicted with their typical coloration and in the landscape typical for each subspecies. On the picture the Saker falcon catches the displaying (lekking) Little Bustard male, and female, being pressed down almost invisible in high grass goes away from dangerous place. May. North of Kazakhstan. The feather-grass steppe in Naurzum Bor vicinities. Here in the pine old and tall forests there is one of the highest concentrations of this falcon (nominative subspecies). Such density is caused by good conditions for breeding and a good food base in steppe of the nature reserve. And though the main prey of the Saker Falcon here is rodents and small birds, not attentive displaying Little Bustard also might be got in the Saker falcon talons. I was lucky to travel in these beautiful sites, where among limitless steppes and lakes the large massif of the relict pine wood was saved. I saw and drew displaying and flying away Little Bustards, made sketches of the Saker Falcons, settled in old nest of the White-tailed Eagle, drew by water colours the silver feather-grassed steppe enlightened by sun by waves. Recollections about these trips, sketches in albums, field water colours and drafts have become the base for this picture.
Prints available from stock.
A4 £20.00 GBP
A3 £30.00 GBP

Post and Packing extra, email for quotation stating from which country.