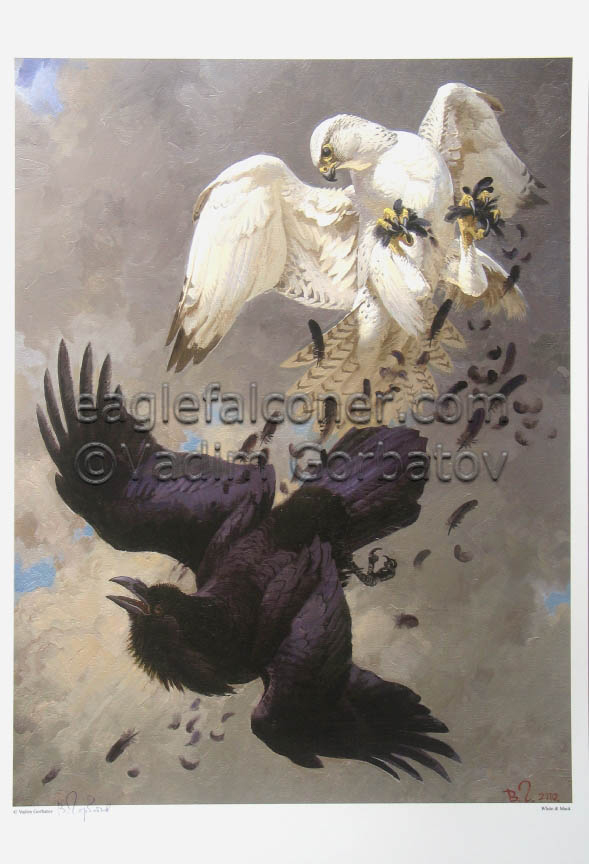 White and Black.


"White and Black" is a simple title for a dramatic painting from Vadim. The white Gyrfalcon has just delivered the fatal blow to a Raven, her feet still clasp black feathers from her victim and as the force from her stoop drives her upwards, she looks back to confirm the damage.
Although this painting shows the moment of the "Coup de grâce" it also conjures up the mind of the viewer the dramatic flight that preceded this moment. For none of the crow family succumb easily, they are too wily for that. This was a battle of wills, cunning, fitness and stamina.
Vadim tells me; In Russian conscience and folklore, the falcon is a symbol of stoutness and courage and Raven and black colour is a symbol of death and vicious power. So this picture more than battle between strong birds. For me it is a battle of good and evil, life and death, right and injustice, light and obscurity.
Prints available from stock.
A4 £20.00 GBP
A3 £30.00 GBP
A3+ £35.00 GBP

Post and Packing extra, email for quotation stating from which country.