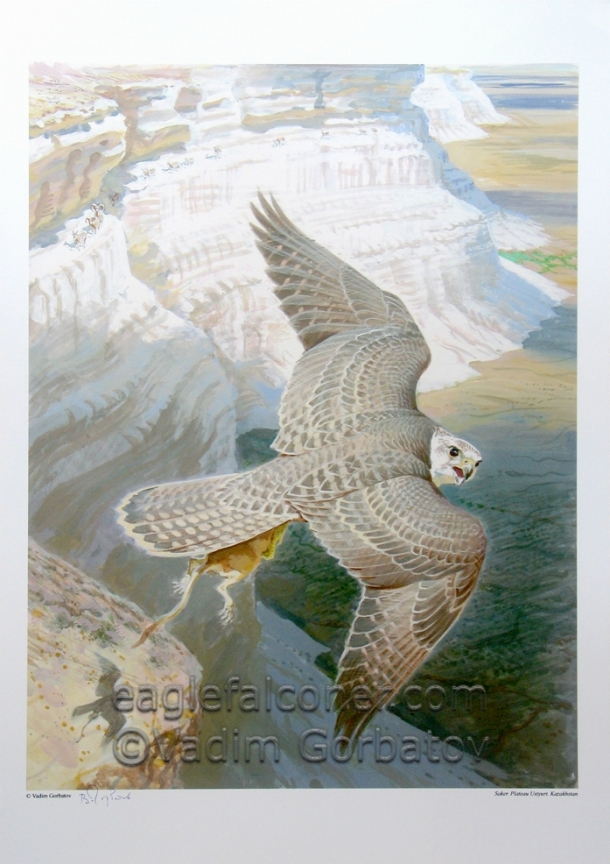 Saker, Ustyurt, Kazakhstan.

The vast Ustyurt Plateau in Central Asia stretches between western Kazakhstan and the Caspian Sea crossing the border of western Uzbekistan towards the Aral Sea. It extends roughly 200,000 sq km which is about 77,000 sq miles.
Primarily stoney desert with a semi-nomadic population rearing sheep, goats and camels.
The Plateau is a former floor of the great ancient sea "Tetis", it consists of chalk deposits with many fossils of sea hedgehog and teeth of sharks. During millions of years of erosion the cliffs have formed with the strata lines that the locals call "chink". They are the shores of the disappeared sea.
It is the habitat of the sakers, golden eagles, ravens and mountain sheep, wolves and foxes.
The Saker falcons of this region prey on the ground game of rodents and scrub hares and will probably migrate south into Turkmenistan where the Turkmenian falconers love to trap and train the Saker Falcon.