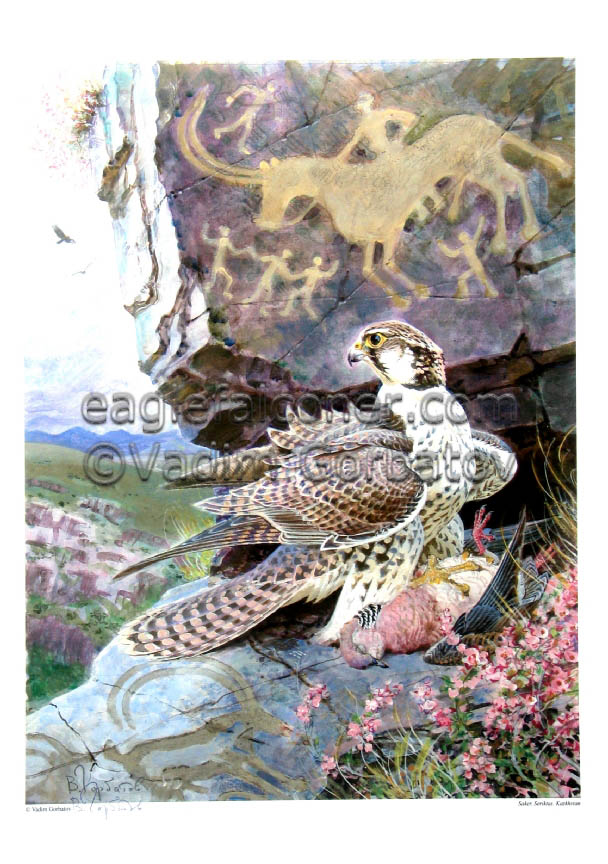 Saker, Serektas, Kazakhstan.


A Saker Falcon in Serektas, Kazakhstan. The Petroglyph images of animals in the higher part of the hills were possible executed in the Scythian-Siberian "animal" style.
The not very high Serektas mountains are located in 16-18 km. to northeast of the ridge of Anrakhai. They can be considered hills that are 250-300 meters higher than the plains. The highest point of the mountains is 600 meters above sea level and is located opposite the natural boundary, Tamgaly in 16 km. to northwest.
On the peak of these hills are carved images of deer, bulls, goats, argali, hunting archers, figures of people with their hands raised, and solar symbols.
The Saker falcons of this and other areas of Kazakhstan are becoming scarce, this lovely painting depicts a falcon with her kill of a Turtle Dove
Prints available from stock.
A4 £20.00 GBP
A3 £30.00 GBP

Post and Packing extra, email for quotation stating from which country.